The symbolism here is very strong and very meaningful.
Barry Adams | Wisconsin State Journal | January 9, 2023
This eagle release, perhaps more than most, was spiritual.
Art Shegone, a member of the Menominee and Potowatomi tribes, burned sage, cedar and sweet grass in a large clam shell that rested in the shell of snapping turtle.
Bill Miller, a Grammy Award-winning artist and a member of the Stockbridge-Munsee Mohican Tribe near Shawano, sang and used a preserved eagle wing to bless the eagles and those who gathered Saturday at the VFW boat landing along the Wisconsin River.
And for Patty Kierski, the release of four eagles here was a fitting tribute to her late husband, Mike, an environmental scientist and longtime volunteer with the Ferry Bluff Eagle Council. In June, Mike was killed by a motorist in a hit-and-run crash while riding his bike in Sauk County.
Just prior to the release on Saturday, Patty was able to put her right hand on the chest of a rehabilitated eagle that had survived lead poisoning near Crandon in northern Wisconsin. She not only could feel the eagle's heart beat, but seemingly that, too, of her late husband of 35 years who had just retired before dying at the age of 59. The work over the years for Mike Kierski, included advocating for the elimination of lead ammunition, the primary cause of lead poisoning in eagles as a result of eating contaminated meat.
"The symbolism here is very strong and very meaningful," said Patty Kierski, who was joined by two of her four children. "It's something Mike would have loved. He was very proud of his work."
Michael "Mike" Kierski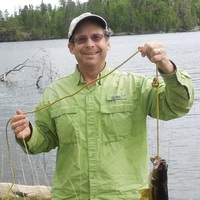 Michael Ward Kierski, age 59, tragically passed away after a bicycle accident in Troy Township on June 20, 2022. He was born in Bloomington, MN on Nov. 9, 1962 to the late Ward and Sharon (Wright) Kierski. His family later moved to Bolingbrook, IL where Michael graduated high school in 1980. Michael attended and earned his Bachelors in Environmental Science from Saint Mary's University of Minnesota in Winona and went on to earn his PhD in Environmental Toxicology from the University of Minnesota. Michael and Patricia "Patty" LaPorte met while attending school at Saint Mary's and were married on Sept. 5, 1987 before making their home in Troy Township where they have lived for over 30 years.
Michael was a steward of the outdoors and worked as an environmental consultant for over 30 years, spending the last 15 years with Exponent before entering partial retirement in November. His love of the outdoors and care for his community was evident as he served as the Treasurer for both the Ferry Bluff Eagle Council and the Midwest Regional Chapter of the Society of Environmental Toxicology and Chemistry. He was a troop leader in the Girl Scouts and den leader in the Boy Scouts when his children were young. He enjoyed canoeing and camping and built his own canoes. He always looked forward to his wilderness trips to the Boundary Waters Canoe Area and annual trips to Ely, MN with his family. He was an avid bicyclist and loved cross country skiing and snowshoeing during the winter. When not enjoying the outdoors he enjoyed craft beers including during weekly visits to the Vintage Brewing Co. in Sauk City with his wife, Patty, and often visited local breweries wherever they traveled.