January 16, 2021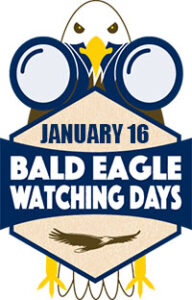 Welcome to Bald Eagle Watching Days – Virtual for 2021
Though eagles might concentrate in large groups in winter for the survival of their species,
with the current pandemic, humans should not. Ferry Bluff Eagle Council President Jeb Barzen welcomes you to Bald Eagle Watching Days – Virtual for 2021. He will share the exciting schedule of events we have in store for you over four Saturdays in January and February 2021. Jeb will also introduce a brand new "Self Guided Eagle Watching Tour." It's an App that can be used with your smartphone, tablet, or computer to locate where Bald Eagles are roosting along the Lower Wisconsin Riverway. It is a fun and socially distanced way to get out to see eagles this winter.
---
January 16, 2021 | 1:00 pm (CST)
Rehabilitated Bald Eagle Release with LIVE Q & A session
Marge Gibson, Founder and Executive Director of Raptor Education Group, Inc (REGI),
will release a rehabilitated bald eagle back into the wild (pre-recorded). Marge is a nationally renowned eagle rehabilitator and educator and will tell the rehab story of the released raptor and share information about the work she does at REGI. This will be followed by a live opportunity for the virtual attendees to ask questions of Marge about Bald Eagles, wild animal rehabilitation, the work of REGI, and other related topics.
Find the Livestream here: https://www.youtube.com/watch?v=JnFMqvR8Jt0
---
January 16, 2021 | 2:45 pm (CST)
Eagles in Native American Culture – Pre-recorded
Art Shegonee is a Native American ambassador to Wisconsin Indian Summer and Call for Peace Drum & Dance Company. He is a member of the Menominee and Potawatomi tribes in Wisconsin, and his name is Canasa (Little Golden Eagle). During his presentation for Bald Eagle Watching Days at the Tripp Heritage Museum, Shegonee will share stories, cultural items, and interesting information about eagles and Native American Culture.
---
January 16, 2021 | 3:15 pm (CST)
Animals that Live with Eagles – LIVE
David Stokes, naturalist, humorist, and educator, will share up-close views of live animals, stories, songs, animal artifacts, science, and humor about animals that share the ecosystem with Bald Eagles. You will laugh and learn with David!
Find the Livestream here: https://www.youtube.com/watch?v=JnFMqvR8Jt0