February 6, 2021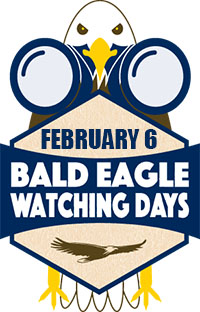 February 6, 2021 | 1pm (CST)
We ♥ Snow Birds! Bald Eagle Behavior and Habitat – LIVE
Bald Eagles return each winter to an area stretching from the Alliant Energy Hydroelectric Dam just north of Prairie du Sac, WI to the eagle roosts near Lone Rock, WI, and beyond. Gathering in large groups is not normal behavior for bald eagles during the warm months, but is necessary for the survival of our majestic raptors when the smaller lakes and waterways freeze up elsewhere. Jeb Barzen, wildlife biologist and President of Ferry Bluff Eagle Council, will provide an update on the current convocations of eagles and share insights on why Bald Eagles choose the Lower Wisconsin Riverway for their winter home.
Find the Livestream Here: https://www.youtube.com/watch?v=L3PAe7tzmHA
---
February 6, 2021 | 2pm (CST)
Eagles in Native American Culture – ENCORE PRESENTATION
Art Shegonee is a Native American ambassador to Wisconsin Indian Summer and Call for Peace Drum & Dance Company. He is a member of the Menominee and Potawatomi tribes in Wisconsin, and his name is Canasa (Little Golden Eagle). During his presentation for Bald Eagle Watching Days at the Tripp Heritage Museum, Shegonee will share stories, cultural items, and interesting information about eagles and Native American Culture.
---
February 6, 2021 | 2:30pm (CST)
Rehabilitated Bald Eagle Release with Q & A session – ENCORE PRESENTATION
Marge Gibson, Founder and Executive Director of Raptor Education Group, Inc (REGI), will release a rehabilitated bald eagle back into the wild. Marge is a nationally renowned eagle rehabilitator and educator and will tell the rehab story of the released raptor and share information about the work she does at REGI. This will be followed by a previously recorded Q & A session with Marge answering questions about Bald Eagles, wild animal rehabilitation, the work of REGI, and other related topics.